Morrison expected to arrive in Queenstown for first face-to-face meeting with Ardern since Covid-19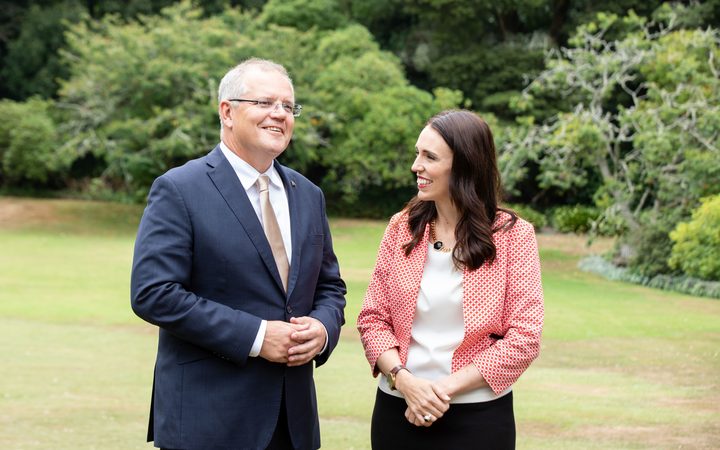 The Australian Prime Minister is flying to Queenstown this afternoon, for one of the first face-to-face meetings of Jacinda Ardern's leaders since Covid-19.
However, even with the operation of the Trans-Tasman Travel Bubble, Scott Morrison's visit was still palpable.
The Melbourne outbreak and Morrison's own presence there almost derailed the visit, but the decision was made to continue.
Cook Islands Prime Minister Mark Brown visited briefly in March; Morrison's trip is part of the annual Australia-New Zealand leaders meeting – the last in person was in February 2020, when Ardern received news of New Zealand's first case of Covid-19.
This tour takes place in the tourism jewel of Queenstown, a deliberate 'double duty' choice to welcome the leaders and give what was once a burgeoning tourism mecca a much needed exposure.
It is also designed to play on the success of the two countries' Covid response – the two leaders without a mask and meeting up close demonstrating how New Zealand and Australia have traveled to the rest of the world.
And there will be a lot to say – China and growing regional tensions, Australia's deportation policy and the path to citizenship, to name a few.
Ardern was "looking forward to welcoming Prime Minister Morrison to New Zealand after a difficult year for both of our countries through the pandemic".
"Our relationship with Australia is the closest and the most important and it has never been more evident than in these difficult times for the world," she said.
"Discussions will focus on how Australia and New Zealand address the common challenges we face," Ardern said.
"The main focus of the meeting will of course be our recovery from Covid-19 as well as how we continue to work together on key regional and security issues."
Morrison reiterated this message: "Travel without a quarantine not only means the Prime Minister and I can hold our annual talks in person, it underscores that our travel bubble sees friends and family meeting on the other side of the divide. ".
The Covid-19 outbreaks around the world and in the region "are a reminder that the virus is still raging outside our borders," he said.
"This is why it is so important that we work closely with our partners like New Zealand not only to respond to the pandemic at home, but to support our friends and neighbors.
"Australia and New Zealand are one family. This partnership will be even more vital in the years to come as we both face an increasingly challenging geostrategic environment," said Morrison.
"Our countries share common values ​​and interests, and we want the same for our family in the region."
During the visit, the two Prime Ministers will meet with Australian and New Zealand business, tourism and community leaders and will lay a wreath at the Arrowtown War Memorial.